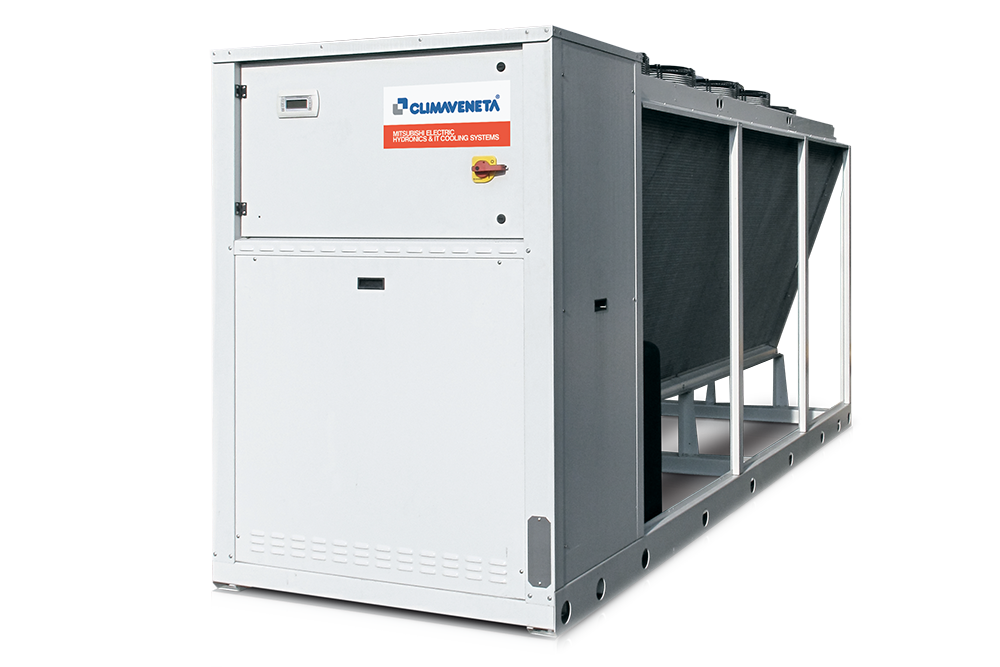 NX-G06 0202P – 0812P
Groene lucht-water koelmachine met scroll compressoren
Meer weten?
Wilt u meer informatie over onze producten? Neem contact op met onze verkoopafdeling.
Stuur een e-mail
Kenmerken
Koelmachine is o.a. standaard voorzien van:
Koudemiddel met laag GWP
Het nieuwe koudemiddel R454B is het meest milieuvriendelijke alternatief voor het veelgebruikte koudemiddel R410A en biedt tot 76% minder GWP ('Global Warming Potential'; het GWP van R454B is 466, het GWP van R410A is 1924 volgens de 5e IPCC-versie) en geen impact op de ozonlaag.
Breed bedrijfsbereik
Deze eenheden kunnen in de warmtepompmodus op volledige belasting draaien tot een buitenluchttemperatuur van -15 °C en zijn in de koelmodus inzetbaar tot 46 °C zonder dat er extra opties nodig zijn. Deze pompen kunnen bij volledige belasting warm water tot 42 °C produceren bij een buitenluchttemperatuur van -15 °C.
Elektronische expansieklep
Het gebruik van de elektronische expansieklep levert aanzienlijke voordelen op, vooral bij een wisselende vraag en verschillende externe omstandigheden. De klep werd in deze units geïntroduceerd na nauwkeurige ontwerpkeuzes met betrekking tot het koelcircuit en de optimalisatie van de werking in verschillende bedrijfsomstandigheden. De elektronische expansieklep wordt standaard geleverd in de zeer zuinige CA-versie.
Zuinigheidsklasse A
De gehele serie is ook verkrijgbaar met rendementsbeoordeling Klasse A (voor verwarming). De CA-versie garandeert een hoog rendement binnen alle geluidsconfiguraties dankzij de royale afmetingen van de koudemiddel uitwisseloppervlakken en een nauwkeurige regeling van de ventilatoren.
Twee geluidsemissieniveaus
Er zijn twee verschillende geluidsemissieniveaus beschikbaar. Daardoor kan de beste eenheid worden vastgesteld op basis van de vereisten voor het systeem waarin deze zal worden geïnstalleerd en de toepassing ervan.
Geïntegreerde hydronische groep
De optioneel ingebouwde hydronische module bevat al de componenten van het hoofdwatercircuit en is verkrijgbaar met één of twee interne leidingen voor matige of hoge verwarming.
Specificaties
Totale koelcapaciteit
49,6 – 218 kW
Uitvoeringen
K
Hoog rendement, compacte uitvoering
LN-K
Geluidsarm, hoog rendement en compacte uitvoering
SL-K
Super Low noise, Key efficiency and compact version
CA
Zuinigheidsklasse A
SL-CA
Super Low noise version, Class A of efficiency
LN-CA
Geluidsarm, zuinigheidsklasse A