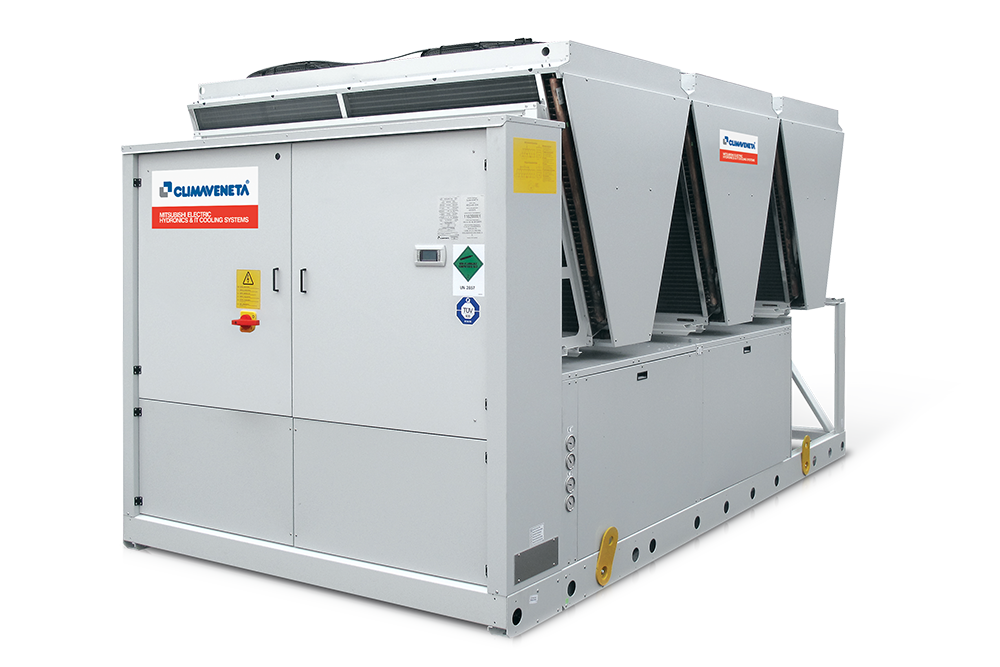 NECS-Q 1314 – 3218
Integra lucht-water 4-pijps machine voor onafhankelijk warm- en koud water productie met scroll compressoren
Multifunctionele eenheid voor buitenomgevingen, voor gebruik in systemen met 4 leidingen voor gelijktijdige productie van gekoeld en warm water via twee onafhankelijke hydronische circuits. Deze eenheden kunnen gelijktijdig voorzien in de vraag naar warm en koud water via een systeem dat geen seizoensgebonden omschakeling vereist en dus een goed alternatief is voor traditionele installaties met koelsysteem en boiler. Deze eenheid is voorzien van hermetische roterende scroll compressoren, met R410A, axiale ventilatoren, warmtewisselaar met mantel en buis en elektronische expansieklep. Het assortiment bestaat uit units die zijn uitgerust met vier, zes of acht compressoren in een configuratie met meerdere circuits.
Meer weten?
Wilt u meer informatie over onze producten? Neem contact op met onze verkoopafdeling.
Stuur een e-mail
Kenmerken
Koudemiddel R410A
Het gebruik van R410A is toegestaan om betere energiezuinigheid te realiseren met volledig respect voor het milieu (ODP = 0)
Uniek aanbod
Eenheid om gelijktijdig te voorzien in vereisten aan koude en warme zijde, voor systemen met 4 leidingen zonder specifieke bedrijfsmodusinstelling
Energiebesparing
Energiebesparing gegarandeerd dankzij de geavanceerde bedrijfslogica. De controller van de eenheid stelt automatisch en onafhankelijk de beste bedrijfsmodus in om de energieabsorptie te minimaliseren, ongeacht de vraag naar koeling en/of verwarming.
Zuinigheidsklasse A
De gehele serie is ook verkrijgbaar met rendementsbeoordeling Klasse A (voor verwarming). De CA- en SL-CA-uitvoeringen garanderen een hoogwaardig rendementsniveau dankzij de ruimte dimensionering van de oppervlakken voor koudemiddeluitwisseling en een nauwkeurige bediening van de ventilatoren – verkrijgbaar op zowel de standaard als geluidsarme uitvoeringen.
Geïntegreerde hydronische groep
De ingebouwde hydronische module bevat al de componenten van het hoofdwatercircuit en is verkrijgbaar met enkele of dubbele interne leiding voor een laag of hoog debiet, verkrijgbaar voor zowel warm- als koud water distributiesystemen (max. 4 pompen).

Specificaties
Totale koelcapaciteit
332 – 850 kW
Uitvoeringen
B
Basis
CA
Zuinigheidsklasse A
SL-CA
Super geluidsarme uitvoering, zuinigheidsklasse A