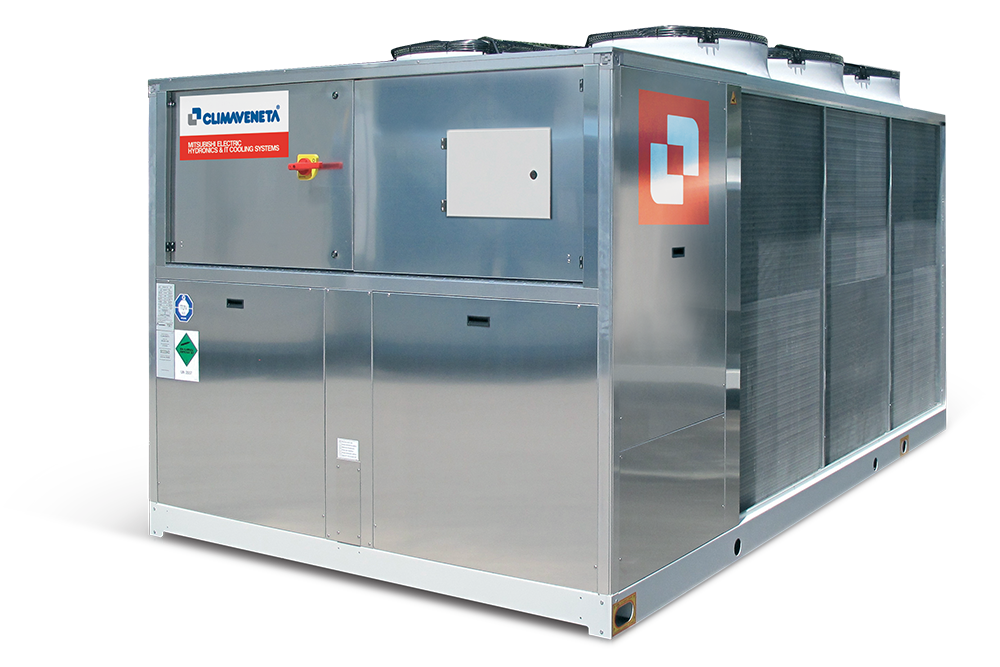 NECS-Q 0604 -1204
Integra lucht-water 4-pijps machine voor onafhankelijke warm- en koud water productie met scroll compressoren
Multifunctionele eenheid voor buitenomgevingen, voor gebruik in systemen met 4 leidingen voor gelijktijdige productie van gekoeld en warm water via twee onafhankelijke hydronische circuits. Deze eenheden kunnen gelijktijdig voorzien in de vraag naar warm en koud water via een systeem dat geen seizoensgebonden omschakeling vereist en dus een goed alternatief is voor traditionele installaties met koelsysteem en boiler. Deze eenheid is voorzien van hermetische roterende scroll compressoren, met R410A, axiale ventilatoren, gesoldeerde plaatwarmtewisselaar en thermische expansieklep. Uitwendige panelen van Peraluman en onderzijde van gegalvaniseerd plaatstaal met lakafwerking. De serie bevat uitvoeringen met twee en vier compressoren, die allebei twee onafhankelijke koudemiddelcircuits hebben.
Meer weten?
Wilt u meer informatie over onze producten? Neem contact op met onze verkoopafdeling.
Stuur een e-mail
Kenmerken
Uniek aanbod
Unit om gelijktijdig te voorzien in vereisten aan koude en warme zijde, voor systemen met 4 leidingen zonder specifieke bedrijfsmodusinstelling
Totale veelzijdigheid
Climaveneta is het enige bedrijf dat totaaloplossingen met scroll compressoren biedt in 3 uitvoeringen die zijn ontworpen om te voorzien in allesomvattende systemen en toepassingsvereisten
Baanbrekende elektronica
De Energy Raiser-eenheden zijn uitgerust met een ontwikkelde elektronische eenheid die volledig automatisch beheer van het beste bedrijfstype toestaat om aan de belastingvereisten te voldoen.
Ventilatieregeling voor gebruik bij lage temperatuur
De standaardeenheden worden geleverd met ventilatieregeling op basis van druk, zodat de eenheid koud water kan produceren met een externe luchttemperatuur tot -10 °C.
Geïntegreerde hydronische groep
De ingebouwde hydronische module bevat al de componenten van het hoofdwatercircuit en is verkrijgbaar met enkele of dubbele interne leiding voor een laag of hoog debiet en configuratie voor installatie- en recuperatiecircuits (max. 4 pompen).
Specificaties
Totale koelcapaciteit
142 – 311 kW
Uitvoeringen
B
Basis
LN
Geluidsarm
SL
Super geluidsarme uitvoering