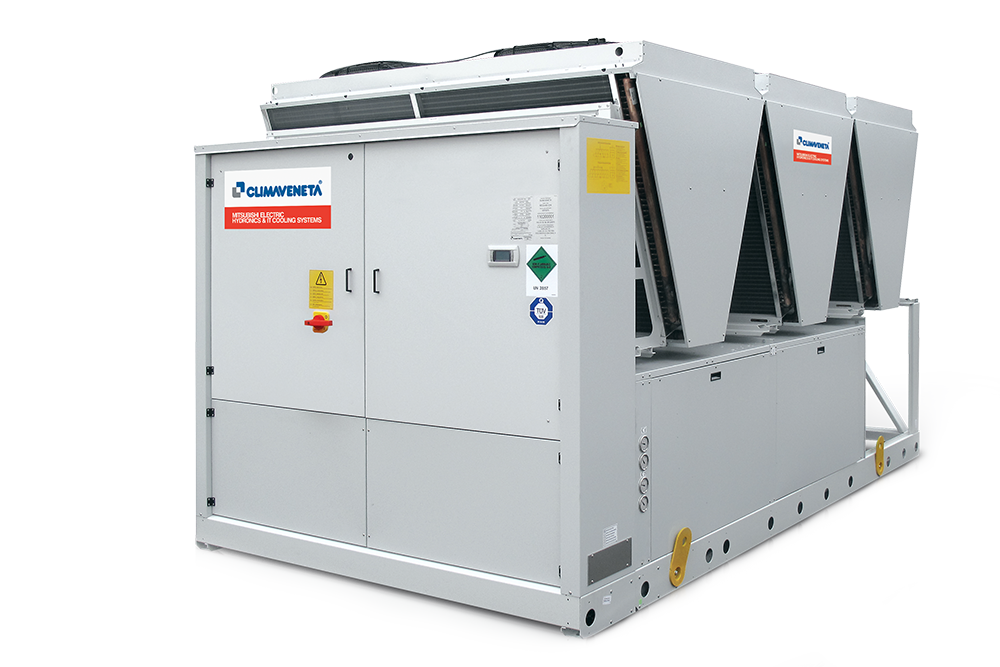 NECS-N 1314 – 3218
Omkeerbare lucht-water warmtepomp met scroll compressoren voor buitenopstelling
Warmtepomp voor buitenomgevingen voor de productie van koel/warm water, met hermetische roterende scroll compressoren, ozonvriendelijk R410A-koudemiddel, axiale ventilatoren, warmtewisselaar met mantel en buizen en elektronische expansieklep. Het assortiment bestaat uit units die zijn uitgerust met vier, zes en acht compressoren in een configuratie met meerdere circuits.
Meer weten?
Wilt u meer informatie over onze producten? Neem contact op met onze verkoopafdeling.
Stuur een e-mail
Kenmerken
Koudemiddel R410A
Het gebruik van R410A is toegestaan om betere energiezuinigheid te realiseren met volledig respect voor het milieu (ODP = 0)
Warmtewisselaar
De warmtewisselaar met mantel en buizen maakt maximale flexibiliteit tijdens installatie van de eenheden mogelijk, waardoor maximaal rendement kan worden behaald. 'NECS-N' staat niet voor niets voor de beste optie voor alle hydronische toepassingen voor de residentiële, commerciële en industriële markten.
Standaard elektronische expansieklep
Het gebruik van de elektronische expansieklep levert aanzienlijke voordelen op, vooral bij een wisselende vraag en verschillende externe omstandigheden. De klep werd in deze units geïntroduceerd na nauwkeurige ontwerpkeuzes met betrekking tot het koelcircuit en de optimalisatie van de werking in verschillende bedrijfsomstandigheden.
Geïntegreerde hydronische groep
De optioneel ingebouwde hydronische module bevat al de componenten van het hoofdwatercircuit en is verkrijgbaar met één of twee interne leidingen voor matige of hoge verwarming.
Configuraties
– Basisfunctie
– D – Functie voor gedeeltelijke warmteterugwinning uit condensvorming
Specificaties
Totale koelcapaciteit
320-833 kW
Uitvoeringen
B
Basis
SL
Super geluidsarme uitvoering
CA
Uitvoering met hoog rendement